(Photo credits: Ukrainian soldiers conducting training manoeuvres near the border with Russia, December 2021. / Ukrainian Ministry of Defence, Wikimedia Commons.)
&nbsp
The border between Russia and Ukraine has become the scene of regular tensions since the protests that began in November 2013, known as Euromaidan, which ended with the change of government in Kiev, the annexation of Crimea by Russia, the war in the Donbas region.
In recent weeks, however, this tension has reached levels that once again seriously raise the possibility of a larger-scale armed confrontation.
Although Moscow had already planned to deploy 100,000 troops to the border in April 2021, it backed down in June and the tension did not reach the diplomatic impact it is now provoking. In the last days, the United Kingdom and the United States have announced the withdrawal of non-essential personnel from their embassies in Kiev, a step that has not been followed by the European Union.
Washington D.C. has mobilised 8,500 troops to support the North Atlantic Treaty Organization (NATO) exercises in the territory, and other ally countries are sending military resources. US President Joe Biden has even claimed that his Russian counterpart, Vladimir Putin, "will test the West and the NATO" and "pay a serious and dear price".
In Europe, some analysts point to French President Emmanuel Macron and the announcement of his meeting with Putin as one of the few remaining resources to salvage a peaceful mediation. "Russia does not want to see Ukraine as a neutral country, but rather as an ally", says Russian analyst Oleg Ignatov.
What are the chances of an invasion?
Despite the intensity of the military manoeuvres on the border, Ukrainian Defence Minister Oleksiy Reznikov has tried to reduce the rumours of war. "There is no reason to think that […] an invasion will happen from a military point of view", he said. "Panic and fear are what gets most attention", he lamented, as he referred to how the international media is reporting about the situation.

Since the start of the conflict in 2014, more than 10,000 people have died. / Lionkinh, Wikimedia Commons.
At a grassroots level, the perception seems to be different. Anatoly Kaluzhny, an evangelical pastor in Kyiv, observes "lots of feelings in Ukraine", but a clear presence of "fear". It is "a very natural feeling" in these days, but it should be "controlled", he says in a video posted on Facebook. "God is in control and nothing that could happen is without his will", he says.
These days Ukrainians are demonstrating in the streets literally asking to "stop" Russia. Ruslan Kukharchuk, president of the Christian civil movement Vsi razom! and of the association of Christian journalists Novomedia, recalls that in 2014, "the Russian government formally proclaimed that it was not going to conquer Ukraine, but unfortunately there is no reason to be confident because they occupied Donetsk, Lugansk and the entire Crimean peninsula". Citizens in the Eastern European country are under "long-lasting stress and expectation. The Ukrainian national currency fell in price. Foreign partners are cancelling their business trips to Ukraine".
The evangelical sphere in Russia
On the other side of the border, Christians are seeing a Russian invasion less likely. This is the case of Vitaly Vlasenko, Secretary General of the Russian Evangelical Alliance, who told Protestante Digital: "I think it has to do with Russia-NATO talks and planned military exercises in the area. I continue to believe that Russia is not a country of aggression". Russia has no interest in starting what could become a global war, he believes. "In my opinion, the Russian government would like to have closer and more friendly relations with the Ukrainian one, but does not know how to do it right and is trying to solve it through economic, political and military pressure".
Speaking of Christians in Russia, Vlasenko underlined that "all Evangelical Unions and organizations that are members of the Russian Evangelical Alliance are peaceful towards all people, they treat their brothers and sisters in faith in Ukraine, as well as in other countries, with deep respect".
Moscow's positions have to do with the advance of the NATO in Eastern Europe, with the new memberships of the security organization in Eastern Europe: Romania and Bulgaria joined the alliance in 2004, Montenegro in 2017 and North Macedonia in 2020. In a conversation with the President of Finland, Sauli Niinistö, Vladimir Putin reportedly expressed a demand to return to the situation in 1997, when NATO was practically limited to countries in the Western part of the continent.
William Yoder, an evangelical analyst based in Russia, asserted in a recent article that "Russians insist on retaining good thoughts about their Western neighbours, including those beyond the Atlantic (…) I've done no scientific survey, but it should be safe to conclude that 95% of Russians desire a peaceful solution to the Ukrainian dilemma" but that this is difficult with the increasing presence of US allies near its borders.
He hopes for "Ukraine's 'Finlandization', or at least of a military neutral Eastern half of the country. The Kremlin is very open to such efforts; Ukraine would once again become a bridge spanning the blocs".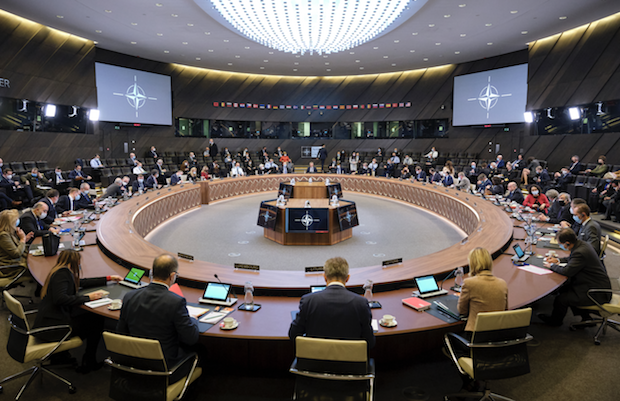 The Kremlin justifies its military moves on the border by the weight NATO has gained in the region. / US Department of State, Wikimedia Commons.
Prayer, prayer, prayer
Religion is present in the conflict. Especially in the sphere of the Orthodox Church. In January 2019, Constantinople granted full autocephaly and independence to the Kyiv Patriarchate, which already at the end of 2018 had claimed control over more than 7,000 parishes in the country.
Evangelical Christian communities have also not been exempt from the effect of the climate of hostility in which they have been living for years, with strong opinions aired on social media on both sides.
For most Ukrainian and Russian evangelicals, however, the hope for peace and the expression of their faith transcends political disagreements. "Faith is not a game of 'maybe yes or no'", says Vitaly Vlasenko, as he calls "all people of good will to unite in prayer (…) I call for firm faith and no doubt in the peaceful resolution of this conflict".
"We pray every day in our churches", he adds, "crying out to our Lord Jesus Christ for peace and harmony on our European continent". Among the requests are "the search for mediators". In fact, the Russian Evangelical Alliance believes the World Evangelical Alliance (WEA) should be considered as a mediator in the conflict.
Throughout January, "Ukrainian evangelicals organised a lot of prayer and fasting campaigns in local churches and all over the country", says Kukharchuk. Evangelical television stations have even aired 24-hour prayer-themed programmes. "It is difficult to answer what would happen if the tensions grow further… Of course, much of the civil population would become refugees, looking for peaceful locations for their families. As hundreds of thousands did in 2014, they moved to non-occupied regions of Ukraine or even abroad. Another huge part of society will stand to protect the native land with weapons in hand", he notes.
The church of Kaluzhny, the pastor in Kyiv, is one of those congregations that "pray for Ukraine every Sunday, and with a special song". But committed Christians should also be known for being "helpful for others, bringing peace from God to others". He is encouraged to see increasing numbers of "Christian chaplains for hospitals, for the army, volunteers".
"If you know and love God, if you love the church, then let us unite in prayer, trust God and keep peace in our hearts". He also prays for the Russian people, its churches, and even for Vladimir Putin: "God can stop him", says the pastor.
EEA: "We are proud of all evangelicals who act as peacemakers"
Speaking to Evangelical Focus, the secretary general of the European Evangelical Alliance (EEA), Thomas Bucher, lamented that "the threat of invasion creates yet more anxiety, even without any military intervention happening". The EEA "does not want to see more violence, death, destruction and infringement of human rights".
"Both Russia and Ukraine are sovereign nations, having the right to live without fear of attack but also having a duty to live peaceably as neighbours", says Bucher. "As Russia annexed Crimea and continually shows its displeasure, it is no surprise that Ukraine seeks the help of others in being defended against its powerful neighbour". In different ways, "each side may feel threatened by the other but that is absolutely no justification for conflict".
The European Evangelical Alliance regrets that "truth is always the first thing to fall victim in such conflicts", and reiterates that "we need to pray for peacemakers and truth champions to speak up loudly in both Russia, Ukraine and the autonomous territories. We are proud of all the evangelicals playing these roles in Ukraine and Russia".
The EEA finally calls again "for prayer for all who live in fear of war and for those suffering in Eastern Ukraine".